I got the chance in August to visit the Digital Revolution exhibition at the Barbican in London: a celebration of the history of digital media, art and a snapshot of the state of the digital arts in movies, music and pure digital art. I loved it so much visiting with the family, but couldn't justify a sneaky personal visit on my own when the kids were back at school to really absorb it.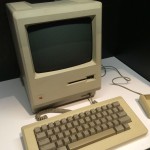 I should have posted this when there was still a chance for others to visit. There was too much that I loved for me to take in with my own senses, so there is no chance I can do it justice here, but I'll list some highlights.
Without a doubt the stand-out for me was the finalists in the Google DevArt competition. These were highly interactive installations that really messed with your mind, combining the work of developers, designers, artists and technicians to make experiences that blurred the lines between these disciplines.
Of these, and this is a touch choice, Chris Milk's The Treachery of Sactuary was my wonderful and disturbing favourite. This gave you a view of your real-time silhouette being eaten alive by birds, or disintegrating one bird at a time, and then finally the chance to fly yourself and leave the exhibit. Magical.
Creators Project – Treachery of Sanctuary from Chris Milk on Vimeo.
But there was so much more. I loved the archive of digital computing, with the original Mac desktop, a Fairlight keyboard, and other computing memorabilia (including the original software you could still play with) that just made my skin itch with happiness.
Some of the music videos digital art projects, by Bjork, Amon Tobin among others, I cannot even describe. What I guess we have to realise is that the technology and processing power is capable of as much as we can imagine now. It's the merging of artists and bold coders that are leading the way.
As I write this I just feel powerless to convey how I felt while I was there, and I just wish I could go back now.