Trying to study and learn technology/programming part time, alongside work and domestic demands has proved challenging. In part this is because to make significant progress it seems that I need a decent run at things, whether it is e-book based, online tutorials, or just hacking away on your own. I set myself a target, at the start of University of Dave, of 40 hours of activity a month. I log all the time i spend rigorously in a Google docs sheet, whether it's 10 minutes of reading a blog post, or 12 hours of solid study, or an evening spent at a tech event. Even so, most months it can be a struggle to hit 40 hours. I had a couple of amazing months when I exceeded 50 hours, and I even exceeded 60 hours in June last year, but these are hard to reproduce.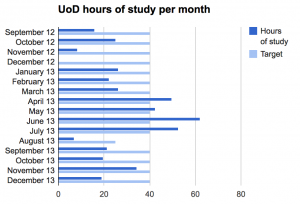 So the point is, how do I keep up the momentum? Late last year, I tried the idea of code everyday, with very limited success. However in January, with all the enthusiasm of a brand new year, I tried again. The idea is that everyday I write a little bit of code. even just ten minutes, and it doesn't matter what language. Just practise something I have learned. It's been amazing. Some evenings I just can't stop. The ten minutes thing helps in a couple of ways. if I am not inspired I don't have to take on anything grand. I can just run through some tests of some basic functionality of some command or feature, without a finished product, or I can refine an existing project or problem that had me stumped the day before. The ten minutes takes away any pressure to perform, and ironically I have performed pretty well. The collective hours have enabled me to tackle tasks I was bit intimidated by. And the big result: I cannot really express the positive effect this has on reinforcing my learning. concepts I struggled with are sinking in, and sticking. When I am faced with a rare big block of time to study, I hardly dare take on a project, but this approach of tiny nibbles is really helping me to progress some  of these sticky projects.
It's only the first month of the year, but 29 our of 31 days is good enough for me. And in a month when I have had more work commitments than I had planned for, I have still broken the 40 hour barrier. By 40 minutes.
CODE EVERY DAY!